Are you an explorer? A professional hunter? Or an avid bird watcher? You should find this Review of the best adventure binoculars helpful. An understanding of the vital, desirable features explorers will look for in binoculars has inspired the making of Vortex Optics Diamondback 10×42 Roof Prism Binocular. It offers superior quality optics and high-performance hunting lenses. Plus many other features; waterproof and fog proof, soft tapered eyecups, and compact size.
It offers excellent light transmission and an enhanced contrast and resolution to capture every moment of the wild. And image quality is top of its class. All this at an affordable price – without compromising on quality. Here is the Vortex Optics Diamondback 10×42 Roof Prism Binocular Review:
Features of the Vortex Optics Diamondback 10×42 Roof Prism Binocular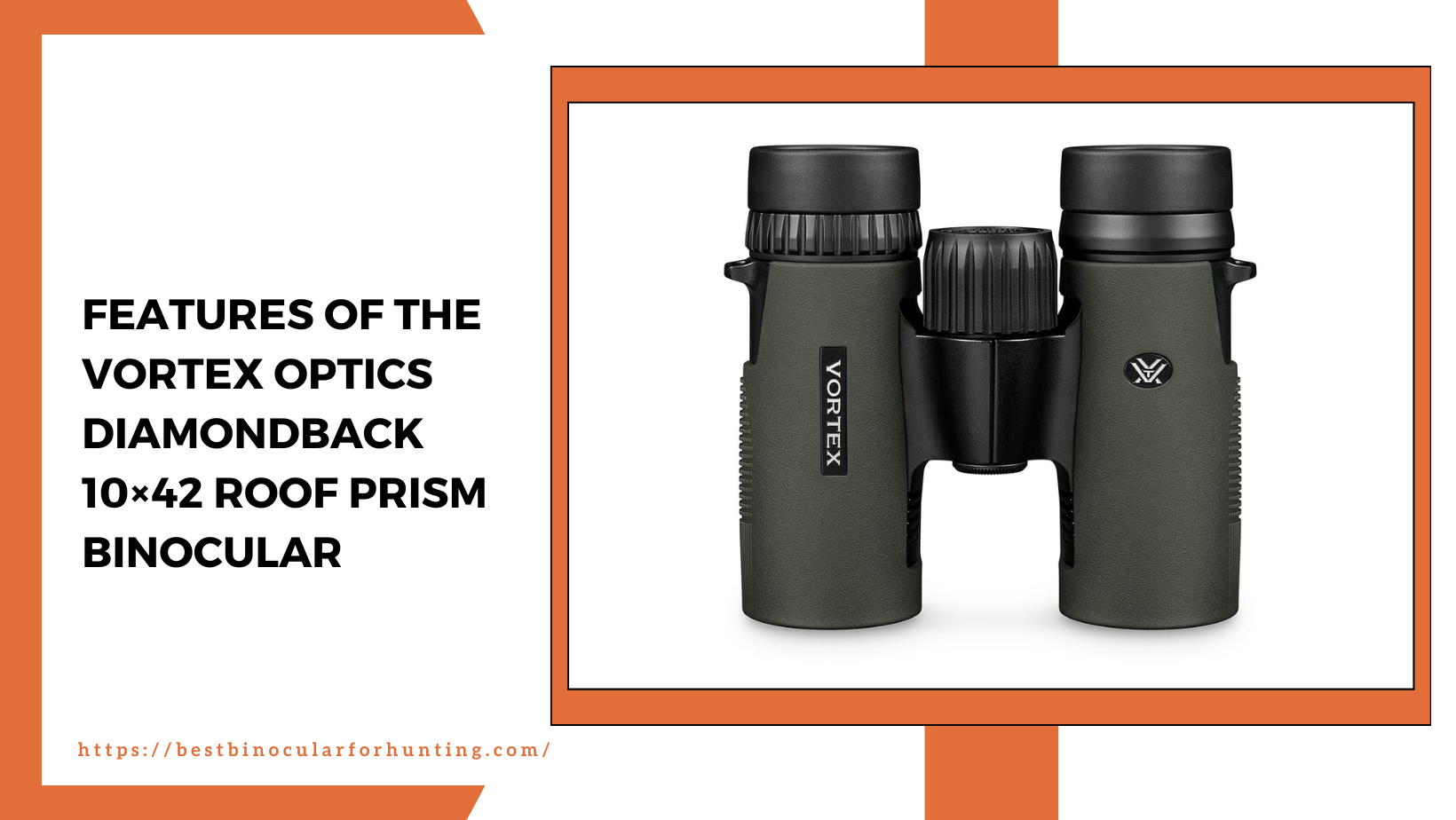 The Vortex Optics Diamondback 10×42 Binocular features excellent optical features to let you catch every moment of the wild at a safe distance. Enhances contrast, outstanding resolution and optimized light transmission help achieve a remarkable image quality. It comes feature packed, making it the perfect Choice for any adventure. Some of its outstanding features are:

Superior quality hunting optics
The Vortex Optics Diamondback 10×42 comes with fully multi-coated lenses and phase-coated prisms to maximize on light transmission and improve contrast and resolution. Combined with multiple anti-reflective coatings on all air-to-glass surfaces, the Vortex achieve a brighter view of the object even under dim light conditions.
Phase correction coating on Roof Prisms enhance contrast and improve resolution, producing a high quality image. The 42mm objective lens offers a wide view field. 10 times magnification power lets you zoom in on your objects from a safe distance.
Amazing focus features
With 10x magnification power and other focus features, the Vortex Diamondback is the perfect choice for hunting, nature observation and bird watching. It can be used for various other uses too; at a horse race event for instance.
It features a center focus wheel that lets you easily adjust the focus. Both barrels turn at the same time for easy adjustment. Bring your subjects to close view and easily follow their movements. Close focus offers a more detailed view of the image.
Durable Make
Vortex Optics Diamondback 10×42 Roof Prism Binocular model is made compact in size but durable. Its firm and sturdy body offer protection from damage. It is designed compact and lightweight so it does not weigh you down. Roof prisms bring about a much appreciated streamlined outlook and a compact size. This not only makes it durable and functional, but also attractive.
For a secure non-slip grip, the diamondback is made with a durable rubberized armor.  Overall, the construct of the Diamondback seamlessly combines a sophisticated design with quality features to offer an appealing, durable and functional binocular.
Waterproof and fog proof
The Vortex Optics Diamondback features a nature-friendly design. It is able to withstand different elements. The fact that it functions optimally in low light conditions as well as harsh dump weather conditions makes it a great choice for different adventures.  The housing is argon purged to achieve fog proofing.
Use of argon as opposed to nitrogen is advantageous. Argon holds it water proofing properties over a longer time, and over a wide range of weather conditions. The equipment is also waterproof. It comes with rain guards as well. This makes it perfect for use in rainy conditions. Generally, it will perform optimally in any conditions of lighting and of the elements.
Adjustable eye cups
Twisted-up eyecups make this model of Binoculars able to accommodate eyeglasses wearers as well as non-wearers. The eye cups are adjusted by simply twisting either upwards or downwards. This multi-position eye cup feature lets you achieve a comfortable view whether or not you are a glasses wearer.
Non-wearers twist up the eye cups while Wearers adjust in a down position. This maximizes their field of view. Also, the adjustable eye cups feature makes it comfortable to use the binoculars.
Tripod adaptable
The Diamondback is tripod adaptable. You can attach your binocular to a tripod for comfortable viewing. Built-in threads allows for attaching to a tripod stand. You can locate these threads behind the screwed logo plate piece. This allows you to use on a tripod or on a car window mount adapter.
Mounting your binoculars on a tripod enhances stability and comfort, especially during prolonged viewing. It makes it easy to watch your stationary subjects and closely, keenly pay attention to every aspect of the detail.
Vortex Optics Diamondback 10×42 Roof Prism Binocular Review – Video
Pros

Cons

Superior quality hunting optics.
High-performance lenses and other optical features.
Quick and easy focus.
Compact and light-weight construct.
Firm-grip, comfortable hold rugged rubberized armor.
Durable shockproof case.
Waterproof and fogproof to be used in varied weather conditions.
Argon is better than nitrogen at waterproofing.
Has an adjustable diopter ring.

The image becomes blurred when the full extent of its magnification is put to use.
Some of Its Features Included 
Rubber Armored Housing.
Phase Corrected Roof Prisms.
Wide-Angle Viewing.
Center Focus Wheel.
Fully Multicoated Optics.
Twist-Up Eyecups.
Waterproof/Fogproof Construction.
Product Specifications 
Prism Type – Roof
Magnification – 10x
Objective Lens Diameter – 42mm
Angle of View – 6.6° (actual)
Field-of-View – 345′ @ 1000yd / 114.54m @ 1000m
Minimum Focus Distance – 5.0′ / 1.52m
Exit Pupil Diameter – 4.2mm
Eye Relief – 16mm
Interpupillary Adjustment – 57-73mm / 2.24-2.87″
Focus Type – Center
Tripod Mount – Yes (Adapter Optional)
Dimensions – 5.9×5.6″ / 14.99×14.22cm
Weight – 1.53lb / 694g
Shipping Weight – 2.5 pounds
Customer Review – 4.8 out of 5 stars
Warranty – Lifetime Unlimited Vortex VIP
Frequently Asked Questions
Q: What is the advantage of argon purged over nitrogen purged for fog proofing?
A: Argon is a better element to use. Its molecules are larger and are less likely to escape overtime. Moreover, argon holds its water proofing properties longer and in a wide range of temperatures (Vortex Optics Diamondback 10×42 Roof Prism Binocular Review).
Q: Does this model have an adjustable diopter rings?
A: Yes. You can locate the diopter ring on the right eyepiece.
Designed for adventure, hunting and nature observation, the vortex diamondback 10×42 offers excellent image quality. Its sophisticated optics and high performance lenses guarantee image perfection. Focus clarity is at the top of its class. And you get a wider view field. It comes rather affordable for an equipment of its quality.
Even so, the low price does not mean that the manufacturers compromised on quality of its features. You truly get more value for the money. It is incredibly functional and comes highly recommended for game, nature and sport watching.